Vancouver United Football Club
BCCSL League
BC Coastal Soccer League (BCCSL)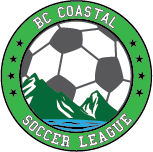 The BC Coastal Soccer League (BCCSL) is a league that has amalgamated the former youth leagues that operated in the Lower Mainland. Those leagues were BCCSL Boys, MSL and BCCGSL. It comprises approximately 21,000 youth and all 8 districts. The amalgamation is to provide efficiencies in terms of a common set of rules, discipline processes as well as a single scheduling system. The goal is to professionalize the league and provide consistent services to its constituents.

More info can be found here.
The BC Coastal Soccer League schedule is available on the BCCSL website in the following location: BCCSL Schedule
Each week the BCCSL scheduler will confirm the home games to each Club, this is sent via an excel spreadsheet every Monday and is published below:
The home team should contact the away team by Wednesday every week to confirm the game, the location and the jersey colour and ensure everyone is in agreement of the details.