Vancouver United Football Club
VanU Skills Centre
VANU SKILLS CENTRE
As our club continues to strive to better serve our members, we are pleased to announce program details for the Fall/Winter "VanU Skills Center" programming which will open up it's registration in one week's time; July 24th at 10am.
As a CSA Club License holder: https://www.canadasoccer.com/play-landing/club-licensing-program/national-youth-club-licence-holders/" style="text-decoration: none;">https://www.canadasoccer.com/play-landing/club-licensing-program/national-youth-club-licence-holders/) our club is excited about being able to offer our players an environment which will allow them to discover and fall in love with the game of soccer.
***NEW***
As the program has grown in interest over the last few years, our blended training group model has proven that blending both Model players (invited players into the environment who are showing accelerated development) and interested players (players who want more programming but who register on their own accord) has demonstrated to us that there is a massive appetite for all membership for more.
Given that popularity and success, this program has become nearly impossible to access for many members; especially on the boys side at the older age groups, so we are adapting our groups and offering "specialized" training groups on the boys side where waitlists have been enormous.
Players deemed as "Player Models" (Invited) will have their own training group in some of our historically overcrowded waitlisted groups. The 2014, 2013, 2012 boys groups will have more opportunity to take part in the program this year, as we split the training environment in those age groups.
Anywhere between 4-6 players registering by way of our open registration process, will have an opportunity to train within the invited group(s) on a week to week basis. These decisions are merit based and will factor in staffing reports, attendance and attitude throughout the program.
This will allow for a more catered and specialized training program for all groups where there has been an exponential amount of interest.
For our intake and 2nd year groups (2016 & 2015) on the boys side, as well as all of the groups on our girls side, our blended model approach will continue with the hopes of seeing the same growth and interest as we have seen on the boys side at the older ages.
Attendance
In the event your child misses more than 3 sessions without notifying the staff by way of our attendance tracking form (which will be provided within your welcome email), the club reserves the right to remove you from the program, and a refund will be provided based on the current program refund policy Any removals from the program past the 8 week mark (half way) will be done so without a refund being provided.
Skills Center Tournaments
In addition to the training component, which will take place on weekends (please see day and times below) from September 2023 to March 2024, we will also be trying to offer a variety of tournaments that our members can opt into taking part in. All players will be considered for these types of events, and even players receiving an invite into the programming are subject to the limited spaces of these events and staff decisions that may decide to not include them. Best efforts will always be made to ensure all participants have an opportunity to take part, but we do not control all aspects of this type of item. Thank you for your understanding.
Training Environment
The training curriculum, overall environment and program expectations for the players and all other pertinent programming details will be managed by our Technical Programs Manager and myself, the Technical Director of the club.
Built upon the guiding principles of our club's Game Model at these age groups, our training sessions are designed to better prepare our participants for the competitive nature of the tournaments we are entering.
This is not a team based program, and friendship requests are not taken into account. When opting into this program, you are accepting that training groups are the sole responsibility of the staff and that groups are formed for a variety of reasons, and are not always what you would perhaps see within their own team environment.
Communication
Any questions regarding this program should go directly to Nick Perugini the clubs Technical Programs Manager: nick@vancouverunitedfc.com
Invitations and Rationale
Players who will receive an "invitation" are what we consider "player model" within their respective age group and have excelled in one or more of the following categories: Athletic Ability, Technical Proficiency, Tactical Awareness, Sportsmanship and Socio-Emotional Maturity. These players would form a core for the training groups, thus impacting those around them (younger/older, Invited/Open Registrants) and furthering everyone's developmental goals.
Players not receiving an invitation are encouraged to register for one of the "open" spots if this program is something that interests them. General registration will open shortly, and will be communicated by Loretta Abdi, our Operations Manager via our club wide PowerUp communication channel.
Spots are very limited, so please ensure you pay close attention to the enrollment opening date and time; age groups have been known to sell out after only 10 minutes of being open. You cannot reserve a spot within the program prior to the open registration period.
2023/2024 Fall & Winter Program Dates:
Sept 16/17, 23/25, 30/Oct 1
Oct 14/15, 21/22, 28/29
Nov 4/5, 11/12, 18/19, 25/26
Jan 13/14, 20/21, 27/28
Feb 3/4, 10/11, 24/25
Training Location:
UBC Mini - Saturdays for all girls groups
UBC Mini - Sundays for 2016, 2015, 2014 and 2013 boys
MacInnis (Sundays for 2012 & 2011 boys)
Cost:
$550
NEW - Jersey
All participants will be required to wear VanU Academy Jersey
***If you do not have an Academy Jersey, you will need to purchase one. Anyone needing to purchase a training jersey should indicate this as part of the registration and our administration team will be in touch with you regarding payment and pick up. Jersey orders should be placed before the 2nd session
Rain coats: we want to encourage all participants to wear a VanU branded shell raincoat . Anyone needing to purchase a training jersey should indicate this as part of the registration and our administration team will be in touch with you regarding payment and pick up. (There are limited quantities of these available).
Anticipated Start Times (subject to change) & Training Groups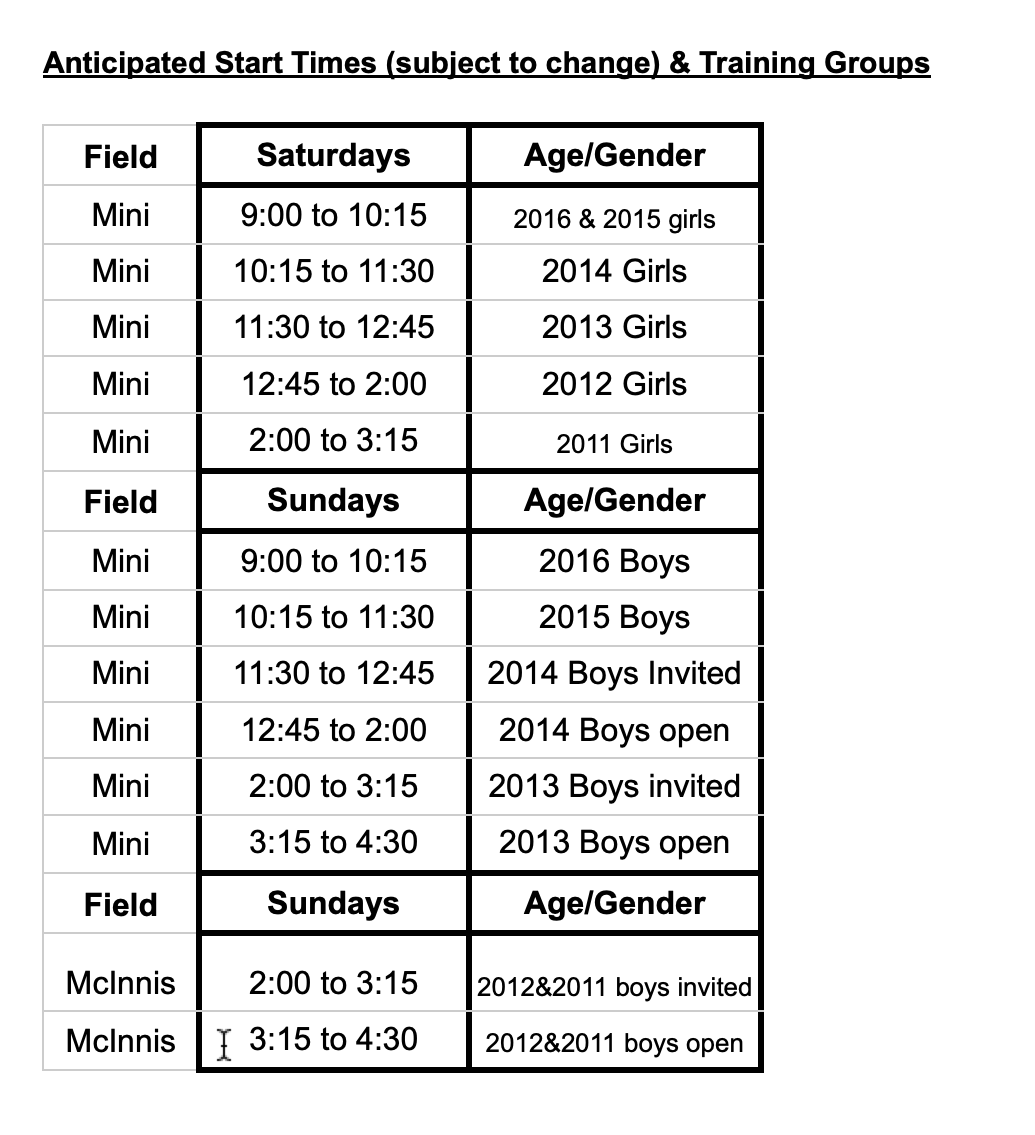 *all times are subject to change & those changes will be communicated in the event they occur
*THIS PROGRAM WILL BE OFFERED TO MEMBERS WHO ARE REGISTERED FOR THE FALL/WINTER SEASON
Upon registration, please be prepared to input your receipt number for the program you are currently registered for. Players not registered for the fall/winter season will have their skill centre registration cancelled and a refund provided.
Local Tournaments (Thanksgiving, Christmas, Easter)
An additional $90 tournament fee will be charged upon acceptance of participation. We will make best efforts to include all members, however, in the event we do not have viable rosters, we cannot guarantee a tournament for all.
Distance Tournaments (Invite Only)
Given the travel, and nature of these tournaments, we provide a breakdown of the costs to all members before commitment is required. That being said, the tournament entry fee, staffing costs and any other miscellaneous costs will be split per team evenly.
For general open registration:
Registration will open July 24th at 10am.